This page is for the boss challenge. For other uses of The Brotherhood Without Banners, see The Brotherhood Without Banners (Disambiguation).

The Brotherhood Without Banners


The Brotherhood Without Banners
is a
Boss Challenge
that is part of the
Teeth Needle-Sharp
storyline.
---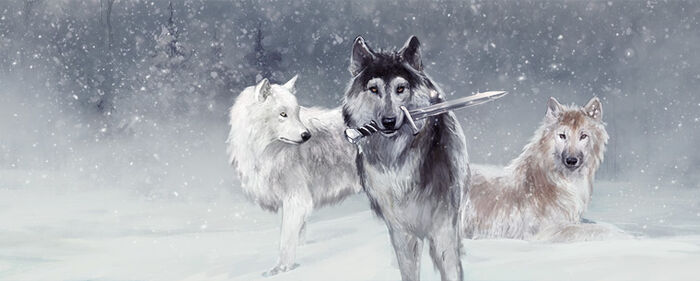 Characters
Rewards
Initiation
Prize
Coin
200 - 300
Participation
Prize
Coin
100 - 200
Ranking
| | |
| --- | --- |
| 1st Place | |
| 2nd Place | |
| 3rd Place | |
Challenge
Part 1: Collared
The wolf with the sword stops suddenly, growling. A pack of brown dogs emerge from the trees, flying no banners.
The wolves are overwhelmed. "Who are you with?" the leader shouts. "Each other," a brown dog answers.
Part 2: Tagged
The brown dogs lead Gammer and the wolves to food and shelter. A massive hound is waiting. He growls. "I know that girl..."
"Arya Stark," the brown dog says, grinning. "Can't let a little lady run about on her own."
Part 3: Caught
The brown dogs prepare to move on. The large wolf whines, calling Gammer, the black one, and the leader back. "I'm staying."
| | | |
| --- | --- | --- |
| Aid | Spy | Bribe |
| Beg Wolf to Leave | Investigate New Home | Offer Food |
The large wolf shakes his head, but tosses a piece of bread to the wolves before leaving. It is shaped like them.
Result
The black wolf and Arya Stark leave with the brown dogs. But Gammer smells something cold and far away. She follows her nose...

Required Points: 23,850